Thank you for choosing to CONTACT US!
We strive to not only meet but exceed
your expectations in every way.

PHOENIX SPECIALTY COATINGS

731-613-9192

Shop Telephone Hours
Monday-Friday 10:00 a.m. - 9:00 p.m. Central Time
Please leave a message if you reach the machine!
This is a busy shop and we're frequently on the phone
delivering the same terrific customer service you will receive.

Extended Telephone Hours for your convenience!

Shop Hours
By Appointment Only

---
For a more accurate quote, kindly
email a few good close up photos
of the parts.
We especially need to see any dings / dents / defects / etc.
Email us at
PhoenixSpecialtyCoatings@yahoo.com
or fill out the
Contact Form
below
If you have already received a
quote
, please ship your parts and deposit to:
PHOENIX SPECIALTY COATINGS
157 Kimery Store Road
Greenfield, TN 38230
We accept personal checks from our internet customers, as well as U.S. Postal Service Money
Orders, PayPal, and most major credit cards (through Paypal)
---
Schedule an appointment if you'll be in the area!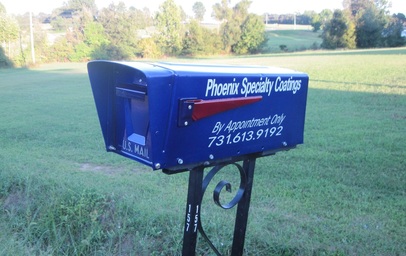 Look for our custom mailbox ... you can see it from Highway 45E!
PSC is conveniently located a half block west of
Highway 45E / 445 (near the
Big Cypress Tree State Natural Area
) between Milan and Martin, Tennessee.
Look for our custom mail box.
Problems finding our shop?
Try the
MAP!
---
Feel free to manhandle the samples ...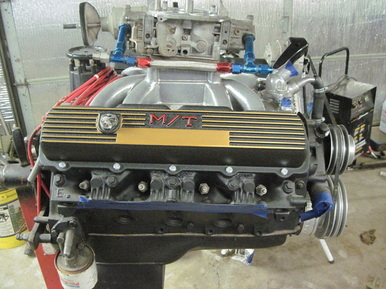 1968 Joe Mondello Oldsmobile 455 with PSC custom coating throughout

... check out our personal hot rods, projects,
Powder Porn in progress and display motors.

WE HAVE NOTHING TO HIDE!
---
---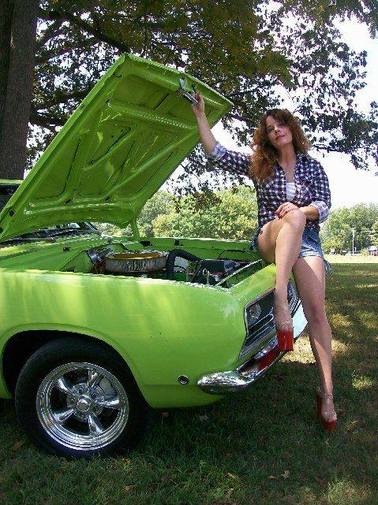 FREQUENTLY ASKED QUESTIONS
I have owned and operated Phoenix Specialty Coatings since its inception on May 31, 2007.

I am the one who will respond to your questions on the phone or through email, give you a quote, inspect your parts upon arrival, do the majority (if not all) of the work required to achieve and surpass your expectations, pack it up safely and then ship it home to you when it's done.

From years of experience on my own and customers' parts, I have assembled the Frequently Asked Questions below to more personally acquaint you with the shop and to provide a general overview of what you may expect upon retaining PSC for your metal restoration and customization needs.

I was an enthusiast, a motorhead and a restorer long before I was ever a business owner. I'm in this for the love, the passion, the hobby itself, and to keep our beloved babies on the road for a few more generations to enjoy. My primary mission is to give you the exquisite results you expect and deserve at the most reasonable cost that I can because every dollar you don't spend here can be devoted to something else for your car … or for groceries … or for your daughter's dance lessons.

Please feel free to call me at any time between 10 a.m. and 9 p.m. (Central U.S.) at 731.613.9192 to discuss the details of your project or brainstorm on some ideas. It's what I'm here for!

Leanna ~ The CudaChick
The Mistress of Metal


---
---
WHAT IS POWDER COATING?
Chances are good that if you've found this website, then you are already well aware of the many benefits of powder over paint including its durability, beauty, versatility, and minimal environmental impact. To learn more about the basics of the industry, please refer to the leading experts in the field at the Powder Coating Institute.

HOW MUCH DOES IT COST?
PSC bills at $35 per labor hour plus the actual cost of powder (and materials costs in some cases). Invoices are broken down into several categories so you can see at a glance how your dollars were spent (i.e., blasting, metal work, parts / equipment cleaning, powder coating, polishing, etc.). Labor time is never 'rounded up' to the nearest hour; rather, it is recorded in as little as 3 minute increments depending on the task, and you pay only for the labor time used working on your parts.

Every job is quoted individually to be fair to everyone. Some projects need a lot more time while others do not, and I have learned that "flat rate pricing" penalizes customers more than it benefits them.

It is very difficult to provide an estimate / quote without good close up photos of YOUR METAL. "Stock" manufacturer's images you find online or generic line drawings do not really help me to give you an accurate estimate.

Close up pictures of any dings / dents / damage / pitting / heavy rust or oxidation / chipped or broken areas / missing metal / etc., will assist me in evaluating the total cost much better than a couple shots taken from two or three feet away.

Multi-color powder coating work in particular needs clean, crisp lines. Good metal work is absolutely crucial to achieve "three-inch results," and is required in most cases. Without it, color breaks and logos end up looking fuzzy, sloppy and amateurish.
Unlike other powder coating shops who simply blast, color and return what you present to them 'as is,' I do my best to get your metal as close to perfect as possible before any powder is applied. Every step necessary to transform it into a work of art we can both be proud of will be undertaken unless you instruct me to the contrary ahead of time. (Leaving casting flash and defects intact is sometimes desired by those customers who seek a factory-style restoration. Just be sure to tell me first or I'll get rid of that ugliness before you know it.)

Excessive blasting and heavy cleaning (such as four inches of road grime crusted on your transmission pan) are charged at $70 per hour. The cleaner your metal is on arrival, the less time and effort it will take to prepare. Spending a few minutes cleaning your parts before you ship them can translate into big savings on your final invoice.

People contact me about custom valve covers and air cleaner assemblies more than anything else. With few exceptions, brand new metal most especially needs a lot of clean up -- spiderwebbing between the lettering, casting flaws, rough edges on fins, and even the sides have dings or missing metal -- due to the imperfect sand casting molds or dies in which the parts are formed. This is what they inevitably look like up close – where it matters. The payoff for that metal work is evident in the results.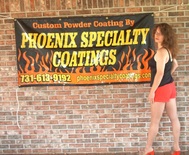 Some projects can be completed in just a few hours while others requiring more bodywork (and/or more complex color schemes) may need a lot more. Without seeing good close up photos of your parts and having a good overview of your desired color scheme, I am merely
guessing
what your job will entail rather than
estimating.
HOW LONG WILL IT TAKE?
Turn around time varies greatly depending on how many jobs are in line ahead of yours. The nature of custom work – what we do here more than anything else – requires additional time to prepare and complete than a big box of gloss black brackets for instance.
On average, 2 to 5 months is a reasonable expectation. PSC has anywhere from 15-50+ jobs in line at any given time (even during the summer "slow season"). Our customers are all working on different build schedules, some shorter than others. Rushes and shorter deadlines can often be accommodated though so don't hesitate to ask! I have maintained a calendar of Customer Due Dates for several years now and will do everything within my power to accommodate your deadline.
DOES PSC SUPPLY THE PARTS OR DO I?
On occasion, customers will offer extra parts as an offset on their bill (a "trade in" if you will) but most people ship their own parts here to be customized and/or restored. What I have in my personal stash varies at all times so it's best to call me, or purchase or provide your own parts.
DO I HAVE TO SEND BRAND NEW PARTS?
NO!! You can save a serious amount of money purchasing used parts versus buying brand new pieces. The metal quality and castings are often much better in vintage parts than what is available now. Old nasty beat up stuff can look just as good – and often better – than brand new parts simply because of metal and casting quality alone.
We encourage our customers to shop Craig's List, Amazon, eBay, online classifieds / forums, FaceBook enthusiast pages, etc., rather than buying brand new parts from a manufacturer or aftermarket supplier. (If you do have to purchase parts either new or used, see the section "
I Have to Buy Parts. What Should I Get?
" for several important time- and money-saving tips.)
You can have your internet / supplier purchases shipped direct to PSC too and save a leg on the shipping costs. As long as the seller / supplier properly marks the box or contents to identify and contact who it belongs to, that's all I need to know.
Any specialized modifications / clearances should be done before you ship parts, but knock-outs for PCV grommets, notching for aftermarket intake manifolds, thread inserts, etc., can be accomplished here on your behalf. You and I will work very closely together to make sure the parts you send me are perfect for your ride in every respect, and the more information and measurements I have at the outset the better the results will be.
I HAVE TO BUY PARTS. WHAT SHOULD I GET?
Purchasing bare, "as cast," "natural finish" pieces versus factory polished, powder coated or painted metal can save you literally hundreds of dollars in stripping / excessive blasting charges. Bare, unfinished parts also cost less at the outset when you purchase them from an aftermarket supplier.
It isn't unusual to devote several hours to blasting off that thick black paint the factories like to use … and then spend even more labor hours on bodywork repairing all the casting flaws and defects that all that thick paint was covering up to start with.
There is little benefit in purchasing metal that was previously finished at the factory if you're going to get it powder coated. With few exceptions, any existing finish must be completely removed down to bare metal anyway so paying for factory polishing or painting merely increases your customization / restoration costs and slows down the entire prep process.
HOW BIG IS YOUR OVEN?
Our large batch oven is 7 feet tall, 4 feet wide and 3 feet deep. Parts measuring up to 6'9" can usually be accommodated.
PSC's Skat Blast™ media blasting cabinet is 5 feet long. Any parts that exceed the size of the blast cabinet will have to be prepared outside of it which can result in substantial additional charges. If your part(s) exceeds five feet in length, it can often benefit you greatly to have it initially blasted in your local area before shipping it to us. (Any 'flash rust' that occurs in the meantime is not a cause for worry, as the pieces will have to be lightly blasted again immediately before powder work anyway. Getting the majority of the heavy blasting done in your local area first – especially if there's a lot of paint or surface area -- will save me time which translates into saving you money.)
I'VE DECIDED TO HIRE PSC. WHAT DO I DO NOW?
Call or write to me so we can get a bit acquainted. I want to know about your car, motorcycle or art project and get a feel for what you're trying to accomplish in retaining me. I'm a motorhead and an artist who truly loves this stuff! Above all else, I want to take the picture you have in your head and put it on your parts, plain and simple. Good communication between us and an outline of Your Plan will help me visualize your goals and turn them into reality.
Find a box with a Certified Edge Crush Label (usually on the bottom) that is sufficient for the weight of your item(s) AND is at least 3 inches larger on ALL SIDES than the part(s) you are shipping. The proper label will be circular, contain the box manufacturer's name, the edge crush rating and weight limitations, and other information. (We will most likely return your parts to you in the same box and we use lots of cushioning and packing materials.)
Wrap the item(s) and pack the box well. Pointy or sharp edges, brackets, loose hardware, and anything that can shift and poke through the box during transit should be cushioned separately. Hardware especially tends to get lost along the way and survives long trips better when it is secured in a plastic bag.
Use plenty of sufficient packaging material to completely fill up the box and help to ensure that your items arrive here intact. Anything less can and will result in damage to your metal; it can also serve as the basis for the shipping company to deny your insurance damage claim later. Cardboard cartons used for worldwide shipments are insurable while most manufacturers' packaging – such as the box your new printer, box fan or floor jack came in – may not be. Make sure it has an Edge Crush Label (see #2 above)!
Include a note or a letter with your name, mailing address, telephone number(s), and email address.
In your letter or note, briefly outline your desired goals including the color scheme, any necessary modifications to the metal (such as a PCV grommet opening), any special polishing you desire, when you need the finished job back, and how you heard about the shop. (See "How Can I Keep My Costs Down?" for more details on PSC Discounts.) If you're sending a large box of varied parts, a separate contents list may also be beneficial, especially if they are not all going to be the same color. Please do not rely on my memory if we have only spoken over the telephone. I talk with a lot of people and cannot have a crystal clear recollection of every discussion and color scheme; having your ideas in writing right there at my bench can be very helpful. (I will of course contact you if I have questions.)
You can include an advance deposit if you wish, although it is not required in most cases. If I indicated during our first chat that I may be ordering a special powder for you, an advance deposit for costs and materials is appreciated.
Now pick up your box and shake it as hard as you can. If you hear or feel anything moving, open it and repack it again until you don't. Although I will love your metal as much as you do, please note that it's at the mercy of others who don't during transit. Your shipment will endure rough handling, conveyor belts, airplane rides, and even tired, disgruntled shipping company employees who will not care as much as we do if at all. ((If you have any doubt about this, check out the hundreds of related videos of closed circuit cameras detailing shipping company mishaps on YouTube or watch the beginning of Ace Ventura, Pet Detective.)
Arrange for shipping to Phoenix Specialty Coatings, 157 Kimery Store Road, Greenfield, TN 38230.
It is strongly suggested that your shipment be sent via traceable means (UPS, FedEx, US Postal Service Certified Mail, etc.) or other method that issues a tracking number. We recommend insuring the box for the amount you would expect to pay to replace the contents on the open market. UPS typically offers $100 in free insurance whereas other shippers may not.Upon our receipt of your shipment, you will be contacted and kept apprised as progress occurs through emails and/or phone calls. (You won't hear about progress from me immediately, but once I have your parts on my bench you will probably hear from me a lot until they are finished.)
HOW CAN I KEEP MY COSTS DOWN?
Send clean parts!! Any time that isn't devoted to scraping two inches of grime off the insides of your valve covers for example can be devoted to other prep work and earn you a faster turn around time. The less time it takes to accomplish your restoration goal, the less your bill will be.
Be sure to tell me how you first heard about PSC in your letter accompanying your parts. We offer a substantial discount to U.S. Military (enlisted, discharged, and Veterans) and a labor discount to members of certain online message boards / forums. We DO NOT ADVERTISE FORMALLY ANYWHERE, instead relying on word of mouth, those people who stumble on the website, or who were referred to PSC by an existing customer.
Read through the FAQ section "I Have To Buy Parts. What Should I Get?" above for helpful tips on reducing prep work.
DO YOU DO CHROME?
No. However, there are powders available today that replicate a chrome look pretty well (see the examples elsewhere on the website). Electing to use a chrome-replica powder versus true, triple-plated rechroming will provide a similar look from a few feet away while saving a
substantial
amount of money. Please note you will
not
get that mirror-like reflective finish with chrome powder as you will with "real" chrome. My 'Standard Chick Answer' is that you can kind of see yourself in the powdered finish but you won't be able to tell if you have a blackhead or not. It can be a very affordable alternative to those who are unconcerned about having a mirror finish.
HOW LONG HAVE YOU BEEN IN BUSINESS?
Phoenix Specialty Coatings opened its doors on May 31, 2007. See the
About Us
page for more details on our history, to learn about the owners and our own projects, and meet the shop mascots.
CAN YOU COAT MY HEADERS / EXHAUST MANIFOLDS?
PSC no longer performs high temperature ceramic coatings. Please shop elsewhere.
I HAVE OTHER QUESTIONS …
Just call me! I'm available between 10 a.m. and 9 p.m. by telephone every day (yes, even most weekends). The shop number is 731-613-9192. I'm always happy to help … because I wouldn't be doing this job I love so much without YOU.
---
---
---
Due to differences in monitor settings, it is impossible
to
accurately depict powder colors on any website.
The work quality is obvious with our extreme close up photos and click-to-enlarge feature throughout the site ...
but if you are
considering unusual or custom colors, or trying to match an existing item, then we strongly recommend that you include a color sample or
request free color swatches
prior to shipping us your parts!
We can send swatches of the powders that caught your eye here,
as well as a few similar ones to compare.
Email or call 731-613-9192 for details.





---
We Look Forward to Hearing From You!
Problems with the website or suggestions for improvement?
Please give us a call, or email
Leanna the
webmistress
.